Horsham ACORN Scheme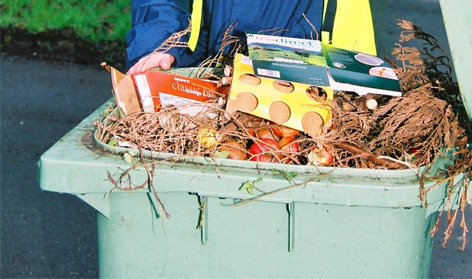 Bins full of Green Waste in Horsham
Horsham District is located in West Sussex in the south-east of England. Up until 2001 the majority of the district was offered a kerbside recycling scheme with newspapers with magazines and cans with plastics collected on alternate weeks. This service along with bring banks resulted in a recycling rate of 13% in 2001. In order to achieve its statutory recycling target the council had to achieve 26% recycling by 2003/04 and 36% by 2005/06.
WERG, in partnership with the Council conducted a series of recycling trials to assess how levels of recycling could be increased. Both trials were based upon alternate weekly collections of waste and recyclables, a system that has been working effectively elsewhere in the UK.
The first trial incorporated waste being collected one week and dry recyclables being collected the following week.
In the second trial garden waste and cardboard was collected one week and residual waste the following week with dry recyclables collected on alternate weeks.
Both systems placed emphasis on education and each household on the trial was visited to explain the scheme. Weights, set out and participation rates and levels of excess waste were recorded over three phases; prior to the scheme being implemented (to provide baseline data), immediately after the scheme started and three months after the system had to been in operation.
Both of the trials led to an increase inparticipation compared with the previous scheme.
When the scheme was initially introduced participation was 75% on the dry recyclable trial, and 92% on the garden waste trial. By the third phase of analysis there had been a drop off in participation, however levels were still higher than they had been on the old system. Over the first twenty weeks of the scheme weight data showed that the dry recyclable trial yielded an average recycling rate of 17% compared with 52% on the garden waste trial.
Horsham District Council was subsequently awarded a grant of £1.3 million to implement a new recycling scheme to help increase recycling rates. The results from the trials assisted the council in developing the ACORN scheme which began to be implemented throughout the district in May 2003. The scheme collects waste on a weekly basis with garden waste fortnightly and cans and plastic with paper on alternate weeks.
In 2009 Horsham District Council started to implement the ACORN plus scheme which will see an increased number of materials collected at the kerbside - the council currently recycles 41% of household waste.